Coronavirus India Live Updates: India records 91,702 new cases, 3,403 deaths – The Indian Express
Coronavirus India Live Updates: The US' Food and Drug Administration (FDA) on Friday rejected emergency use authorisation for Bharat Biotech's Covaxin vaccine, instead recommending that the vaccine manufacturer's US partner apply for biologics licence application (BLA), PTI reported. BLA is a "full approval" mechanism by the FDA for drugs and vaccines.
India reported 91,702 new coronavirus cases in the last 24 hours, with which the country's caseload rose to over 2.9 crore. The death toll surged to more than 3.7 lakh after 3,403 Covid-related deaths were recorded on Thursday. Tamil Nadu remains the highest contributor with 16,813 cases. Active cases have dropped further to 11.21 lakh.
A significant percentage of the vaccinations carried out in major cities across the country were administered on employees of large corporates — mostly in the service sector but some from manufacturing as well — and their families, official data analysed by The Indian Express show. Between April 7, when the government allowed corporates to vaccinate at workplaces, and Wednesday, a total 69,170 shots had been administered at the campuses of software major Tata Consultancy Services (TCS) at several cities across India.
Meanwhile, US President Joe Biden said that his country had contributed "more than any nation" to the global vaccine-sharing effort 'COVAX'. "We've supported (vaccine) manufacturing efforts abroad through our partnerships with Japan, India and Australia, together known as the Quad," he said in a recent press briefing.
In a setback to Bharat Biotech's COVID-19 vaccine Covaxin, the US Food and Drug Administration has "recommended" Ocugen Inc, the US partner of the Indian vaccine maker, to go for Biologics Licence Application (BLA) route with additional data, nixinghopes of Emergency Use Authorisation.
Ocugen in a statement on Thursday announced that as recommended by theFDA,it will pursue submission of a biologics licence application (BLA) for Covaxin. BLA,isa "full approval" mechanism by the FDA for drugs and vaccines. "The company will no longer pursue an Emergency Use Authorization (EUA) for Covaxin.
The FDA provided feedback to Ocugen regarding the Master File. The company had previously submitted and recommended that Ocugen pursue a BLA submission instead of an EUA application for its vaccine candidate and requested additional information and data," Ocugen said. (PTI)
The Uttarakhand government has ordered an inquiry against all the private labs conducting rapid antigen tests after discrepancies were found in COVID-19 testing during the Mahakumbh earlier this year.
On April 1, when the Kumbh formally started, there were 626 active cases in the district, that number went up to 11,075 on April 30 — there were 90 deaths in April.
Pune district authorities have been able to vaccinate 32.59 lakh beneficiaries till June 9. Of these, the maximum doses have been administered to people belonging in the above 45 age group, with 17.95 lakh people getting the first dose and 4.2 lakh receiving their second shot.
Across the state, a total of 2.5 crore beneficiaries have been vaccinated.
In Pune district among the 18-44 age group, a total of 4.71 lakh beneficiaries have been administered the first dose while 13,974 have got their second shot. Read the full report here.
In the last 24 hours, India reported 91,702 new coronavirus cases, with which the overall caseload rose to over 2.9 crore. The death toll surged to more than 3.7 lakh after 3,403 Covid-related deaths were recorded on Thursday. Tamil Nadu remains the highest contributor with 16,813 cases. Active cases have dropped further to 11.21 lakh
India reports 91,702 #COVID19 cases, 1,34,580 discharges & 3,403 deaths in last 24 hrs, as per Health Ministry

Total cases: 2,92,74,823
Total discharges: 2,77,90,073
Death toll: 3,63,079
Active cases: 11,21,671

Total vaccination: 24,60,85,649 pic.twitter.com/0wrWOFIe29

— ANI (@ANI) June 11, 2021
The West Bengal government on Thursday directed officials to follow vaccination guidelines issued by the Central government with regards to students going abroad for study and sportspersons participating in the Tokyo Summer Olympics.
The Central government had on June 7 decided to reduce the second Covishield dose gap for students, sportspersons and professionals travelling abroad to four weeks from eight weeks.
The state issued a notification a day after the Association of Health Service Doctors wrote to the principal secretary of the Health and Family Welfare Department to implement the Central government's standard operating procedure (SoP). Read the full report here.
Outside Sarvodaya Kanya Vidyalaya No. 2 in Delhi's post East of Kailash, among those waiting in a line on Thursday is Pooja, a student of the school. The 16-year-old has been here for one-and-a-half hours, having arrived at 7.30 am with her pink school backpack — this time to carry home rations promised by the Delhi government.
"Both my parents restarted work just a few days ago, so I am here. I came yesterday also but the rations finished after 15 people had received them. I reached early today, hoping to get a token. I called my class teacher too to ask if she knew when the supply would come, but she said she didn't know," Pooja said.
Under the drive that started June 5, the Delhi government is giving 4 kg wheat and 1 kg rice to people not covered by the PDS as a one-time benefit, with schools set up as distribution centres. The government estimated two lakh people would avail of the scheme initially, with the numbers going up to 20 lakh "as per demand and need assessment". Read the full report here.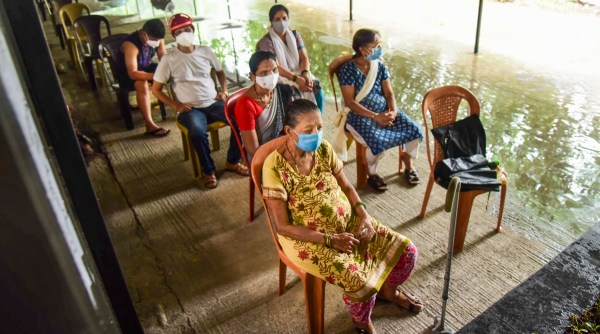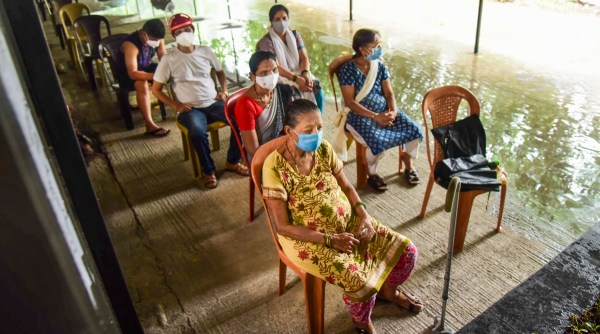 Beneficiaries wait to get Covid-19 vaccine at ESIS Hospital vaccination centre during heavy rain, in Navi Mumbai. (PTI)
Terming the low coverage of Covid vaccination among the healthcare and frontline workers a cause of "serious concern", the Centre Thursday advised the states and Union Territories to prepare effective plans for expediting the second dose coverage among these priority groups, PTI reported. At a high-level meeting chaired by Union Health Secretary Rajesh Bhushan with the states to review vaccination progress, it was highlighted that while the national average for the first dose administration among the healthcare workers (HCWs) is 82 per cent, for the second dose, it is only 56 per cent, a statement issued by the health ministry said.
Delhi on Thursday recorded 305 Covid-19 new cases and 44 deaths while taking the positivity rat down to 0.41%. On Wednesday, the national capital had recorded 337 fresh infections with a positivity rate of 0.46 per cent and 36 fatalities.
India reported 94,052 Covid-19 cases, and 6,148 deaths on Thursday. This is the highest number of deaths that the country has seen in a day since the start of the pandemic. The jump in deaths come after Bihar revised its toll on Wednesday, adding 3,951 previously uncounted deaths to its tally.
Source :Google News