Farooq Abdullah to head seven-party Peoples Alliance, Mehbooba Mufti nominated VP – Times of India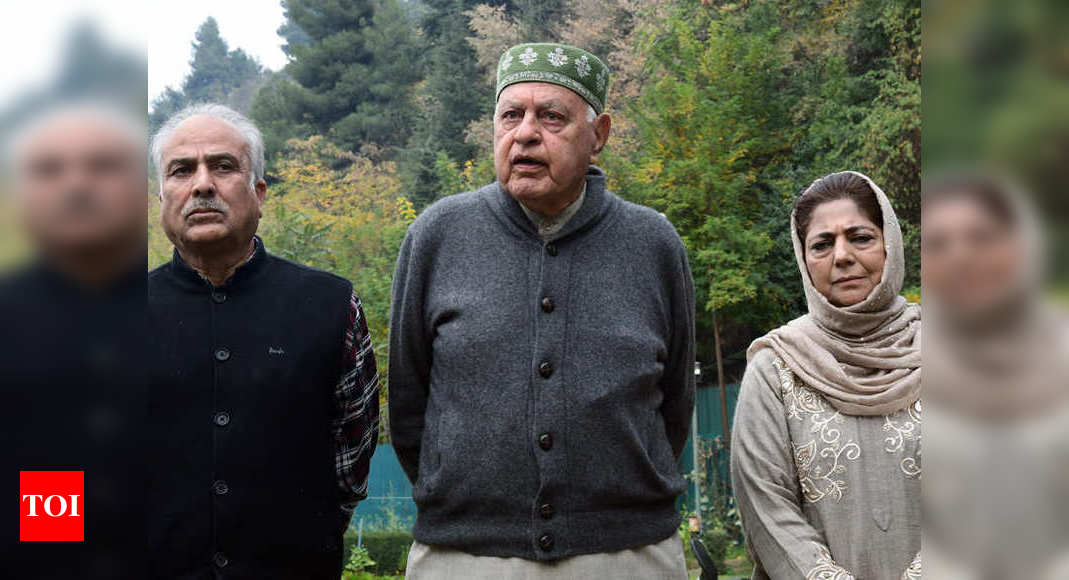 SRINAGAR: The Peoples Alliance for Gupkar Declaration, the seven-party amalgam of mainstream Kashmir parties demanding the restoration of Jammu and Kashmir's special status, appointed on Saturday National Conference chief Farooq Abdullah as its president, PDP president Mehbooba Mufti as vice-president, and decided the flag of the erstwhile state of Jammu and Kashmir would be the flag of the alliance.
The decisions came at a meeting of alliance constituents, some of whom are arch-rivals, at Mufti's Gupkar Road residence here. "It's not an anti-national alliance, it is an anti-BJP alliance… BJP wants to divide the country, our aim is to ensure that the rights of the people of J&K and Ladakh are restored," Dr Abdullah said.
Congress appeared to distance itself from the PAGD with J&K PCC president GA Mir staying away from two meetings of the conglomerate — on October 15 when the alliance was forged, and on Saturday. Sources close to the regional Congress unit said this was because of what they described as a "twist" in the objective of the basic demand for the restoration of special status to J&K, a reference to recent statements from Mehbooba Mufti to the effect that she would raise the tricolour only when the J&K flag, too, was allowed to fly. The source said Congress had raised the issue of the nullification of Article 370 in Parliament but the PDP Rajya Sabha members had not spoken a word on it in the Upper House.
Union law minister Ravi Shankar Prasad, meanwhile, was quoted by ANI as asking, "Why is the so-called secular lobby silent at this anti-national remark (Mehbooba's remarks of Friday)? … In one country there cannot be 'do nishaan, do pradhan'. We condemn this." He added that J&K was "India's inseparable part" and "Article 370 abrogation was a constitutional process (sic)".
However, CPM leader Yousuf Tarigami rejected the notion of Congress distancing itself, saying,"Congress party is very (much) a constituent of the PAGD."
PAGD's constituents are National Conference, Peoples Democratic Party, Peoples Conference, Awami National Conference, CPM, CPI and J&K Peoples Movement.
Veteran CPM leader M Y Tarigami was elected convener while Lok Sabha member from South Kashmir Hasnain Masoodi was made coordinator of the conglomerate. People's Conference chairman Sajad Gani Lone would be the spokesman for the amalgam.
Peoples Conference chairman Sajad Lone said the PAGD would come up with a document, at the next meeting in Jammu in two weeks, on the "lies being spread against the people of Jammu and Kashmir". "The white paper will compare the reality and false propaganda on the ground," Lone said.
Both Congress and BJP condemned Mehbooba's statements of Friday. While Congress advised Mehbooba to desist from such statements, BJP demanded her arrest and party activists burnt effigies of Mufti for "insulting the national flag"
"Our relationship with the flag of this country is not independent of this flag (Jammu and Kashmir's flag). When this flag comes in our hand, we will raise that flag too," Mehbooba had said on Friday.
JKPCC chief spokesperson Ravinder Sharma, however, added that Congress is for the restoration of J&K's special status and that J&K should revert to being a single state that includes Ladakh. "We are not with any such irresponsible statement which would hurt the sentiments of Indians," Ravinder Sharma said.
Source :Google News