Jamiat seeks review of SC's Ayodhya verdict – Times of India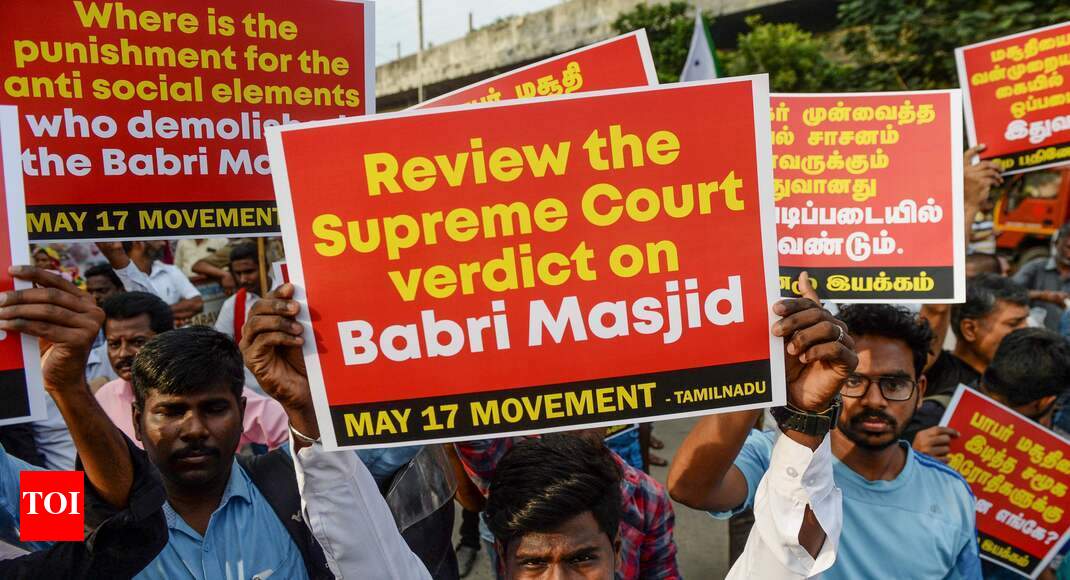 NEW DELHI: Jamiat Ulama-i-Hind's Uttar Pradesh president Maulana Syed Ashhad Rashidi on Monday filed a petition seeking review of the Supreme Court's November 9 Ayodhya verdict, by which 1,500 square yards of disputed land was given for construction of Ram temple and five acres was to be allotted to the Sunni Waqf Board elsewhere in Ayodhya.
The petition, filed through advocate Ejaz Maqbool just six days before expiry of the 30-day window available for seeking review of an SC judgment, minced no words to express disappointment of Muslim parties with the verdict, which it said on one hand held the demolition of Babri Masjid in 1992 as a criminal act in violation of the apex court's orders, but granted the same land to Hindus for a Ram temple.
Rashidi said he was conscious of the "sensitive nature of the issue and understands the need to put a quietus to the issue in dispute so as to maintain peace and harmony in our country, however, it is submitted that there can be no peace without justice".
Review petitions, normally, get adjudicated in chamber by the same bench which rendered the judgment and without assistance of lawyers from litigating sides.
"In the judgment, the SC has acknowledged a few of several illegalities committed by Hindu parties – damage of the domes of Babri Masjid in 1934, placing of idols surreptitiously inside the inner courtyard to desecrate the mosque in the intervening night of December 22-23, 1949, and demolition of the mosque in 1992. However, the SC proceeded to condone these very illegal acts and has awarded the disputed site to the very party which based its claims on nothing but a series of illegal acts," Rashidi said in his 217-page petition, including supporting documents.
The petitioner also questioned the balancing act done by the SC, using its inherent powers under Article 142 of the Constitution, to award five acres of land at a prominent place in Ayodhya to the Sunni Waqf Board. Rashidi said this came as condoning the illegalities of Hindu parties over decades. He said five acres to the Waqf Board was "neither pleaded (during the arguments) nor prayed for (in the appeals challenging Allahabad HC verdict)". Respondents in the review petition include 'Bhagwan Sri Ram Virajman at Sri Ram Janmabhoomi Ayodhya'. The Allahabad HC had in its September 30, 2010, judgment divided the disputed land into three equal parts and given one each to Ram Lalla, Nirmohi Akhara and Sunni Waqf Board.
The SC by its November 9 judgment gave the entire disputed land to Ram Lalla's temple, rejecting claims of both Nirmohi Akhara and Waqf Board. However, it allotted five acres at an alternative place to the board.
Rashidi did not seek review of the SC judgment on several points — rejection of Nirmohi Akhara's suit as barred by limitation; Ram Janmasthan not being a juristic person; deity not a perpetual minor for the purpose of limitations; Vishnu Hari inscriptions were not recovered from the disputed site; Waqf Board's suit was not barred by limitation; courts cannot correct historical wrongs; ASI report's inability to answer whether a preexisting structure was demolished to construct Babri Masjid; finding of title cannot be based on archaeological evidence; Places of Worship (Special Provision) Act, 1991, is intrinsically related to obligation of a secular state and reflects commitment to equality of all religions.