Lotus will be heartbeat away from being Potus – Times of India
WASHINGTON: The charming and wishful desi meme shows the White House with the banner "Kamala Nivas" plastered across it.
If the Biden-Harris ticket hacks it out of the legal thicket and comes out on top in the US presidential election on Thursday, Kamala Harris will indeed be closer to the White House and the most consequential vice-president than any other running mate in American history – on several counts.
The first historic milestone of course will be the breaking of the glass ceiling that will come with swearing in of the country's first ever female vice-president. It is a testament to — and an indictment of — the (mostly white) male dominance of American politics that 45 men have served as president and 48 men as vice-president of the United States; Kamala Harris, regardless of her ethnicity or heritage, will be the first woman to break the barrier to the White House executive office.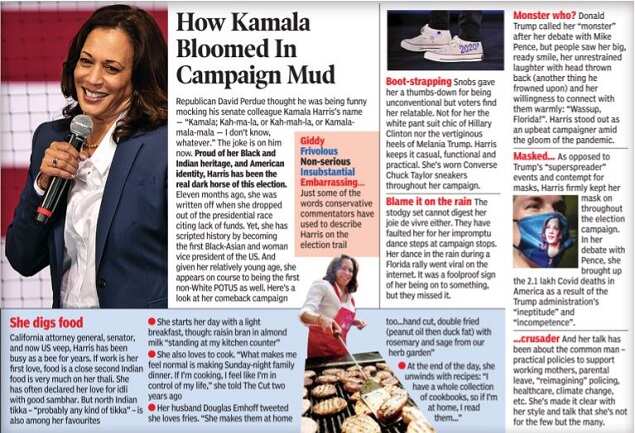 Given the political situation and her temperament, she will be anything but a showpiece. There is of course the widely discussed issue of Joe Biden's age (77) and mental acuity that makes the old trope of the vice-president being a heartbeat away from the presidency even more relevant. But also emerging from the fiasco that is witnessing Democrats squeeze a narrow victory out in the election instead of an anticipated blue wave is a wider leadership crisis: Questions are being raised about the performance of House Speaker Nancy Pelosi (80) and Senate leader Chuck Schumer (70), both of whom have led the party to sub-par results — emerging with a reduced majority in the House and blowing a chance to win a majority in the Senate.
As a relatively young (55) senator from the country's biggest and richest state (California, an economic powerhouse), she will be well-positioned to lead the party's young, restless, and progressive lawmakers champing at the bit. In fact, if Democrats manage to draw level in the Senate after run-off elections in Georgia (they are expected be one seat short after her own California seat is automatically replaced by a Democrat successor), she will, as vice-president, wield the tie-breaker in the Senate.
But to get there, Biden and she will first have to win the count and withstand scrutiny of their own campaign. Why did they fare so poorly in Florida, where efforts to woo the Latino vote appear to have come up short (partly because hispanic immigrants from Cuba and Venezuela were leery of the socialist tag Trump bestowed on her)? Did she sufficiently enthuse the Indian-American and black community, both heavily Democratic-leaning, but some of whose voters view her record with wariness? Once in office she will also have to withstand attacks from Trump, who is not going to fade away, and, in fact, will be even more unhindered without the trappings of office, not that it held him back much.
On a lighter note, Harris will also be the most colourful and well-chronicled vice-president in history given her vibrant personality, intellectual brio, and eclectic interests. Already, she is a social media star, with memes and videos of everything from her favourite songs (Nina Simone's "To be young, gifted and black" is her anthem) to shoes to her dancing and cooking.
As vice-president, Kamala Harris will not be living in the White House; the vice-presidential residence is a couple of miles up north in the US naval observatory. Expect her to be observing the White House from there.
Source :Google News