Mike Pompeo attacks China, Rajnath Singh says 'challenged by reckless aggression' – Times of India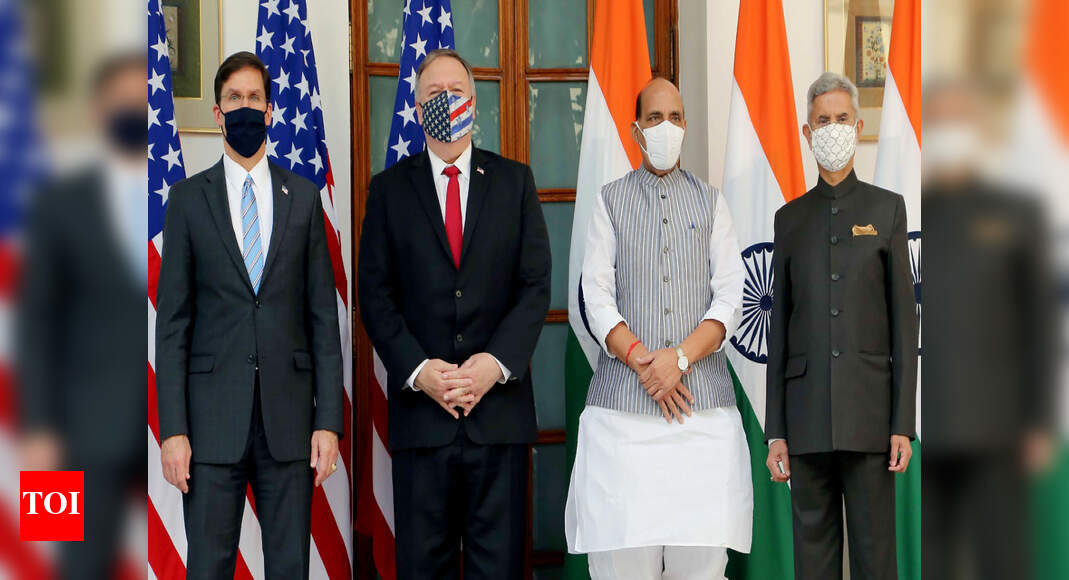 NEW DELHI: India and the US sealed a growing relationship by inking the last foundational agreement to exchange geospatial intelligence which brings defence systems closer and strengthens a compact that now spans a wide spectrum from health, science and technology and education and is undergird by a shared alarm over China's increasing military and economic aggression.
US secretary of state Mike Pompeo did not hesitate to name China and said, "US leaders and citizens see with increasing clarity that the Chinese Communist Party is no friend to democracy, the rule of law and transparency." Defence minister Rajnath Singh too did not mince words when he said India was being "challenged by reckless aggression on our northern borders".
At the third '2+2' meeting between foreign and defence ministers, India and the US signed five agreements, but more importantly signalled the two countries are cutting across a swathe of sectors to work together despite the occasional remarks of US President Donald Trump on trade and more recently on the quality of India's air. The signing of the Basic Exchange and Cooperation Agreement for GeoSpatial Cooperation (BECA), along with the previous GSOMIA, LEMOA and COMCASA, makes India a close strategic partner of the US even in the absence of a formal alliance. Pompeo and US defence secretary Mark Esper also met Prime Minister Narendra Modi who said, "Our comprehensive global strategic partnership stands on a firm foundation of shared principles and common strategic interests."
In his initial remarks, foreign minister S Jaishankar, in an oblique reference to China, said, "The ability of India and the US to work closely in defence and foreign policy has a larger resonance. Together, we can make a real difference when it comes to regional and global challenges, whether it is in respecting territorial integrity, promoting maritime awareness, countering terrorism or ensuring prosperity."
A joint statement welcomed the "growing understanding on the Indo-Pacific among like-minded countries". It reaffirmed that closer India-US cooperation would "support shared interests in promoting security and prosperity in the Indo-Pacific region and beyond".
In his opening remarks, Pompeo said India and the US were "cooperating on defeating the pandemic that originated in Wuhan, to confronting the Chinese Communist Party's threats to security and freedom, to promoting peace and stability throughout the region".
The joint statement also reaffirmed convergences in the fight against terrorism. "The ministers called on Pakistan to take immediate, sustained and irreversible action to ensure that no territory under its control is used for terrorist attacks, and to expeditiously bring to justice the perpetrators and planners of all such attacks, including 26/11 Mumbai, Uri and Pathankot." The statement mentioned that visas, a point of contention, would be discussed as part of the consular dialogue.
Countering China's Belt and Road Initiative, India and the US will undertake joint projects in the Indo-Pacific region. "Recognising the need to contain the build-up of sovereign debt in developing and low-income countries by ensuring responsible, transparent and sustainable financing practices," the joint statement said.
Source :Google News