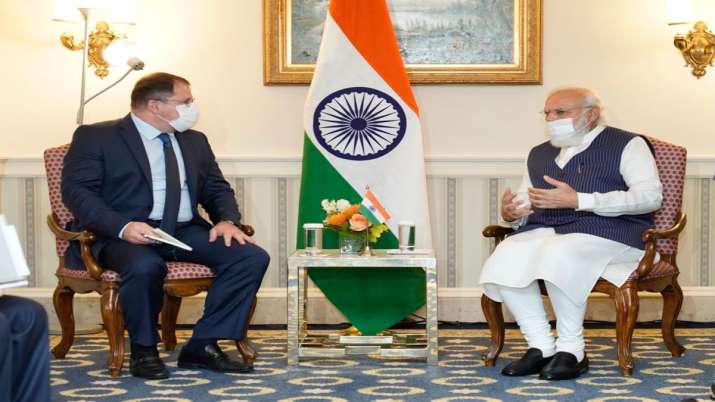 In the first leg of his US visit, Prime Minister Narendra Modi, on Thursday met leading US CEOs in Washington.
He held one-on-one meetings with CEOs of semiconductor and wireless technology manufacturer Qualcomm, software company Adobe, renewable energy company First Solar, arms manufacturer General Atomics, and investment management company Blackstone.
The first meet was with Qualcomm President and CEO Cristiano Amon
"President and CEO of @Qualcomm, @cristianoamon and PM @narendramodi had a productive interaction. PM Modi highlighted the vast opportunities India offers. Mr. Amon expressed keenness to work with India in areas such as 5G and other @_DigitalIndia efforts," a tweet from PMO said.
Modi's meeting with Amon is significant as India is looking at fast adoption of 5G technology in the country and for investment in this high technology area from credible partners who can provide safe and secure networks. The San Diego-based company creates semiconductors, software, and services related to wireless technology and is getting big into 5G technology with its range of pioneering products.
It is expected that high level meetings would pave the way for big investment in new tech area that is required to help country leapfrog to providing its citizens with next generation of networking services. In the first leg of his tour, PM Modi is also slated to meet US Vice President Kamala Harris, besides his Australian and Japanese counterparts Scott Morrison and Yoshihide Suga.
Met Shantanu Narayen, Chairman, President and CEO of Adobe
Narayen and PM Modi discussed Adobe's ongoing collaboration and future investment plans in India. Shantanu appreciated the efforts of India in fighting Covid and particularly in the rapid vaccination. He expressed interest to contribute in India's 75th anniversary of independence and expressed desire to bring video, animation to every child in India.
PM said that bringing smart education to every child is important and that makes technology very important. He said that in the COVID era, the ground for digital education has been laid and we should move forward now. PM and CEO of Adobe both emphasised on creating few centres of excellence in AI in India. The investment in India is our secret weapon, Adobe CEO said during the meeting.
CEO of First Solar calls on PM Modi
PM Modi elaborated on India's efforts to harness solar energy, including the 'One world, One sun and One grid' initiative and investment opportunities in the sector. Mark Widmar expressed happiness with the Indian policies for climate change and related industries. PM spoke about the One world, one sun, and one grid initiative & its potential. He referred to India's ambitious target of 450 GW of renewable energy.
He also emphasized India's focus on manufacturing for solar energy and said that Companies in the field of solar energy can take maximum advantage of our PLI schemes. PM also spoke about India's green hydrogen mission. CEO and PM both agreed on enhancement of the manufacturing of Solar in India. This will also benefit the countries in the region.
Vivek Lall, Chief Executive of General Atomics Global Corporation
They spoke about strengthening the defence technology sector in India. Mr. Lall appreciated the recent policy changes to accelerate defence and emerging technology manufacturing and augment capacity building in India.
Stephen Schwarzman, CEO of Blackstone met PM
PM Modi had a productive meeting with Stephen Schwarzman, CEO of Blackston. Schwarzman informed for Blackstone's investment in India and their plans to further ramp it up.
PM said that there is huge scope for further expansion of Blackstone's partnership in India and elaborated on the reforms done in India. He specifically spoke about Asset Monetisation and Bad Bank.
Mr Schwarzman said that he is very optimistic about India's potential and added that it is one of the fastest growing countries in the world. He also appreciated that reforms undertaken by the India.
ALSO READ: Eisenhower meeting: All about the iconic building where PM Modi will meet VP Kamala Harris
ALSO READ: Why PM Modi is meeting CEOs of Qualcomm, Adobe, First Solar, General Atomics and Blackstone in US
Disclaimer: This story is auto-aggregated by a computer program and has not been created or edited by Clicknow. Source:IndiaTV Business: Google News Feed