Security Camera Catches Man Sharing Adorable Moment With Stray Dog
In the early hours of Saturday morning, Metin Can Şener was walking home along a street in Turkey when a figure emerged from the darkness in front him.
It was a pup — his tail wagging eagerly at the sight of Şener approaching.
Şener had seen the dog before, but apparently only during the day; he often hangs out at Şener's local coffee shop, where this random encounter at 2:51 a.m. took place.
"He comes to that street all the time," Şener told The Dodo. "I always see him by the cafe."
On this particular early morning, however, Şener and the dog became much better acquainted. As if compelled by the same joyful spirit upon seeing a familiar face on that empty street, the two of them reacted in the sweetest way: "We started dancing," Şener said.
Here's video of that adorable moment:
Şener and the dog were passing strangers no longer.
"We became good friends," Şener said. "I already have four dogs, so I couldn't take him home."
Fortunately, despite apparently living as a stray, the dog appears to be well-fed — perhaps having endeared himself to people in the area. Their random meeting this particular morning certainly had that affect on Şener.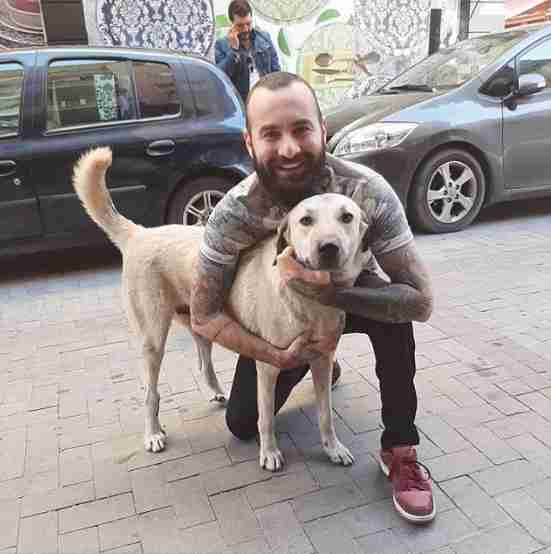 Neither Şener the dog knew at the time that their heartwarming encounter had been caught on film. The owner of the cafe had evidently reviewed the security footage and shared it with Şener the next day.
And since posting it online, the happy scene has gone viral.
"I was surprised to see it had been caught on camera. I thought it was so much fun," Şener said. "I always like to dance with animals like this. I love animals even more than people."