TVS' Michael Metge wins 2019 Baja Aragon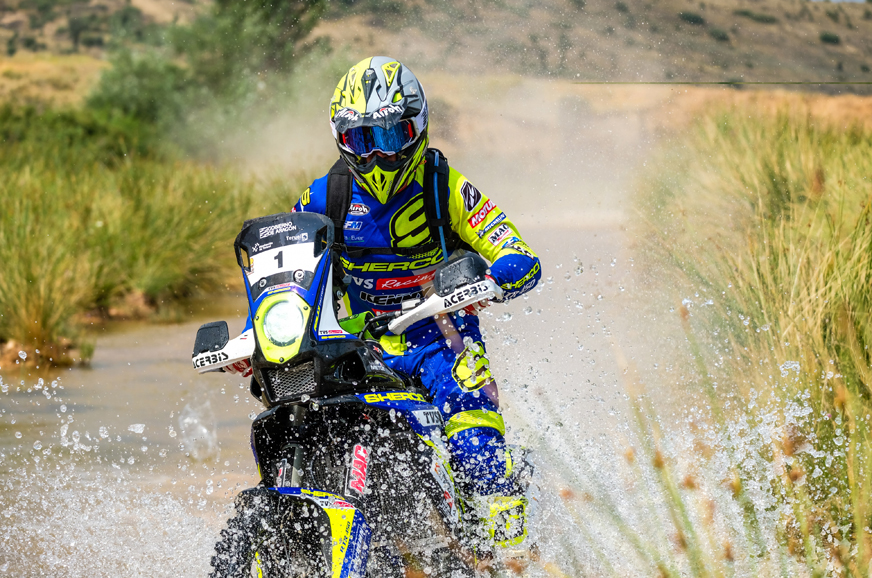 Michael Metge took his second consecutive Baja Aragon victory, winning the 2019 edition of the Spanish event in a dominant fashion. The Sherco TVS rider moved into the lead on the first day itself after winning both the Super Stages, which covered a total of 250km. He further added to his advantage on the second and final day of the rally, setting the fastest time in Super Stage 3. A 3rd place finish in Super Stage 4 helped him seal victory with a total time of 6hr 30.21 min.
"I am thrilled to be finishing at the top for the second time. Baja is a great learning ground as the stages are long and challenging. I am grateful to Sherco TVS Rally Factory Team for the support. I had a solid outing with my teammates Lorenzo, Harith, Aravind, and Aishwarya and I wish them the best for the future rallies," said Metge.
In addition to Metge, Sherco TVS fielded four more riders for the event. Lorenzo Santolino impressed on his rally return, after recovering from an injury sustained in the 2019 Dakar Rally, and completed the 2019 Baja Aragon in 4th place overall. Indian rider Harith Noah was the next best finisher for the team, with an overall ranking of 7th, while Aishwarya Pissay finished 24th overall and 5th in the women's category out of five women. Unfortunately, Aravind KP suffered a crash at the end of Super Stage 2 and had to retire from the rally.
Hero MotoSports also participated in the event with two riders – CS Santosh and Joaquim Rodrigues. CS Santosh endured a challenging rally where he suffered GPS and rear-brake issues on the first day. Day 2 was equally tough as he suffered a crash in a high-speed zone and lost his front brakes. Nevertheless, he managed to complete the rally with a commendable 10th place overall ranking. His teammate Joaquim Rodrigues lost a chunk of time after crashing out on the first day and damaged his bike. He returned the next day and completed the final two stages in 6th and 9th place, respectively, placing him 25th in the overall standings.
Ashish Raorane, who competed in the 2019 Baja Aragon as a privateer astride a KTM EXC 450, also successfully completed the event in 21st place after battling some mechanical issues.